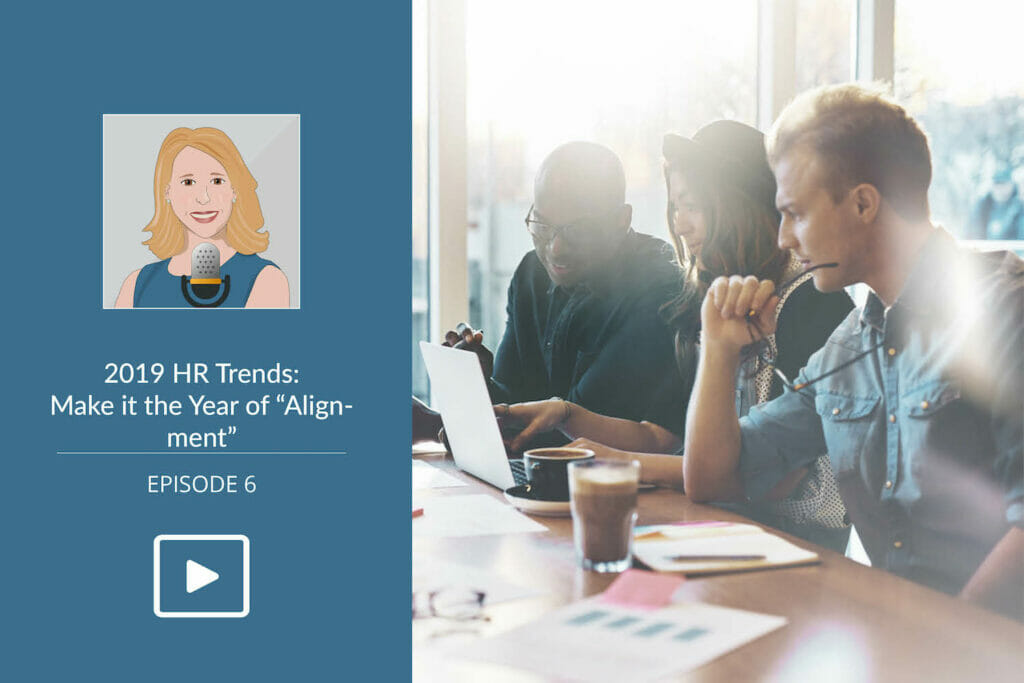 2019 HR Trends: Make it the "Year of Alignment"
NOV 30, 2018
As another year comes to a close, my mind automatically goes through an "HR year in review" – and what a year it has been! We bore witness to a staggering number of sexual misconduct allegations among leaders in nearly every industry. We saw a wide spectrum of responses, along with a generous dose of criticism for HR departments who failed to protect victims. Along a quieter but parallel path, thousands of earnest, hardworking HR professionals took on the challenges associated with a tightening labor market, from recruiting to retention and everything in between.
Listen below to the episode – 2019 HR Trends: Make it the "Year of Alignment":
2018's competing priorities amplify the need for HR to find that magic middle between serving as an employee advocate and keeping a seat at the executive table. If you consider the data, there appears to be an opportunity for growth and improvement on both sides of that equation. According to PWC's most recent CEO survey, 60% of CEO's are rethinking the HR function. On the employee side, one survey found that 70% of employees "don't trust HR." While I don't have an immediate answer to this perennial conflict of employee advocate and partner to the business, perhaps it is time we move away from an "either, or" mentality as we think about the function.
Consider making 2019 the year of alignment. Of course, every employee's goals and incentives should be aligned with what is good for the business. That said, human nature and the speed of business will continually challenge that balance. Regardless of your role, consider ways across the function to drive alignment that will ultimately serve all stakeholders well. Here are a few to consider:
1. Cleanse internal reporting systems.
We're told that "sunlight is the best disinfectant" but 2018 challenged how well our internal reporting structures performed in bringing serious employee issues to light. I strongly recommend all organizations invest in multiple-path reporting for addressing employee complaints. Ensure the organization has clear protocols for reporting workplace problems, in more than one way and at more than one level. This will help to reduce the likelihood that toxic organizational issues become hidden, and possibly hardcoded into the organization's DNA. As Davia Temin described in a recent Forbes article, look at the "tone at the top, mood at the middle, and buzz at the bottom." You may think you already have systems in place, but according to a New York Times article it is "very common for companies to bury information about how employees can file confidential complaints and for employees to be completely unaware of the existence of hotlines." I recommend HR teams look at Temin's 15 Point Plan to Eradicate Sexual Harassment. In it, you will find some high impact ways to create alignment in this area including board level audits of previous complaints, improving hotlines, and enhancing due process. I also recommend companies consider an Employee Relations Boot Camp to make sure that everyone involved understands their responsibility in ensuring the quick and thorough resolution of complaints.
2. Win with Culture.
As we near 2019, don't forget to leverage the power of your culture as a secret weapon in the war for talent. 77% of CEOs find it difficult to get the creativity and innovation skills they need. The HR world has done a great deal to improve recruiting by leveraging process technology and social media. Compensation and benefits departments are constantly keeping pace with the trends employees value most. Make your internal culture a high priority too, as this asset is a huge differentiator. Safety, respect, and inclusion are top of mind right now. "Nearly half of American Millennials say a diverse and inclusive workplace is an important factor in a job search." If you don't have it, build it. If you have a culture to be proud of, don't take it for granted. Be sure to make it a central tenet of your recruitment story. Inclusive cultures are a great example of alignment, supporting both employee advocacy and the business need to recruit the top talent that values it.
3. Claim the future.
Technology disruptors are everywhere, HR included. I encourage HR leaders to think about the impact changing technology is having on the function (i.e., Siri for HR self-service, enhanced analytics, or sites like Bravely that surface and discuss difficult problems), but also the impact HR can have on the entire organization as technology changes the way we work. Employees are becoming more digitally overwhelmed, in large part due to the "always on" nature of work. A recent LinkedIn survey found that over half of working professionals found their jobs stressful. As workplaces become more stressful, there is a need to rethink the role of leaders and managers in monitoring and managing that stress. Many of the cool fringe benefits used as recruiting tools (i.e., nap pods, yoga, on-site farmers markets) can also make a huge difference in the well being of current employees if leveraged properly. HR is uniquely suited to align wellness resources with employee needs by serving as an advisor to leaders on how to monitor, sense and respond to workplace health.
I think about HR alignment the same way I think about my car's wheel alignment. Yes, I officially check it once a year, but it only takes one bad bump in the road to knock it out of place. Whether it is intense pressure on your recruiting function or an unexpectedly tarnished brand, our organizational alignment can also be knocked out of place at any time. Regularly monitoring employee feedback channels, company culture and emerging technologies will serve as an early warning system when the organization starts to pull in the wrong direction. As we look towards 2019, I believe we can find honest ways to keep our organizations fair, centered, and productive. To talk more about your company's 2019 HR Alignment, contact me at jaime@inspirehumanresources.com or (917) 612-8571.
Redesigning the Future of Work